Spatial injustice, urban segregation, and violence in a Central American capital
Published 15 september, 2021
Florencia Quesada
Lecturer in Latin American Studies at the Department of Cultures, University of Helsinki
Urban development in Guatemala City, like many other cities in Latin America, takes place along lines of social segregation and spatial fragmentation. Florencia Quesada, Lecturer in Latin America Studies at the Department of Cultures, Faculty of Arts, University of Helsinki, discusses her research as part of her project 'Fragile Cities in the Global South', where perceptions of violence and insecurity are features of spatial injustice in urban communities in Guatemala City.
A journey through two Guatemalas in Guatemala City
Guatemala City, the largest capital in Central America, is a city of great contrasts and profound inequalities. The metropolitan area has the largest concentration of poor people per square metre in the country. A great majority are living in precarious settlements (the term used in Central America), many of them located in risk-prone areas and hazardous spaces as the ravines that surrounds the city. The ravines composed 42 per cent of the city's territory (Mazariegos et al., 2014).
During one of my field trips to Guatemala City, I lived in an apartment building in the city center. From the terrace of the building, I had a unique panoramic view of the city that helped me built a mental map of the capital. As an urban researcher, it was a rare occasion to have a bird's eye view from such heights. From east to west and from north to south, I spotted the most important urban landmarks. But, from the distance, I couldn't recognize a new urban 'shinny' white area that looked like a small village. It was a striking and contrasting landscape in comparison with its surroundings. The space reminded me of the pueblos blancos in southern Spain. Afterwards, I visited the luxurious urban development named Cayalá City in the most exclusive area of the capital in Zone 16, built in an old suburban farm.
Cayalá City is a combination of exclusive commercial, corporate and apartment buildings for the national and transnational elites. Also, is the best example of private urban development promoting extreme social segregation and spatial fragmentation exacerbating urban inequalities. A common feature in Latin American cities.
Further north from Cayalá City, I started my field work in the opposite side of the social and economic spectrum in the communities of 5 de noviembre and Arzú, both located in the ravines in Zone 18. These precarious spaces are characterized by self-built housing with deficient public services and limited infrastructure. Over time, and thanks to community organization, the help of the state and the municipality, but especially through the support of NGOs such as TECHO, some of them improved their living conditions and even received land titles but always from a marginal position.
The Zone 18 is the most populous, poorest and some parts considered among the most dangerous areas in the city. It is highly stigmatized as a 'red zone'. Certain parts of Zone 18 are controlled by criminal gangs called maras such as Barrio 18 (18thStreet) and Mara Salvatrucha (MS13) and other minor gangs. These gangs are a manifestation of the exclusion and inequalities and the lack of opportunities for youth in the society (Winton, 2005, Jütersonke et al., 2009, Levenson, 2013).
Investigating spatial injustice and dynamics of exclusion
The main goal of my research was to examine the spatial injustice of ravine's dwellers focused on the analysis of urban violence and environmental risks and how these spaces have been socially constructed. Focusing on residents' perceptions of fear, risks and insecurities, the research examined the overlapping types of problems to which ravine dwellers are exposed and they confront daily. Based on interviews and drawing on theoretical ideas of Edward Soja (spatial justice) (Soja, 2010) and Teresa Caldeira (peripheral urbanization) (Caldeira, 2017) the research examined the exclusionary and unequal process of extreme urban segregation in Guatemala City.
On one hand, one of the principles proposed by Soja is to understand and characterized spatial justice by locating and analyzing the specific urban context where the injustice occurs. In the case of Guatemala City, through the analysis of the communities of Arzú and 5 de noviembre. The search for spatial justice, as Soja states, should be an imperative condition in every society. On the other hand, Caldeira's ideas are useful to understand how the making of these spaces unfolds in a different dynamic regarding official logics reinforcing the exclusionary conditions of these marginal spaces.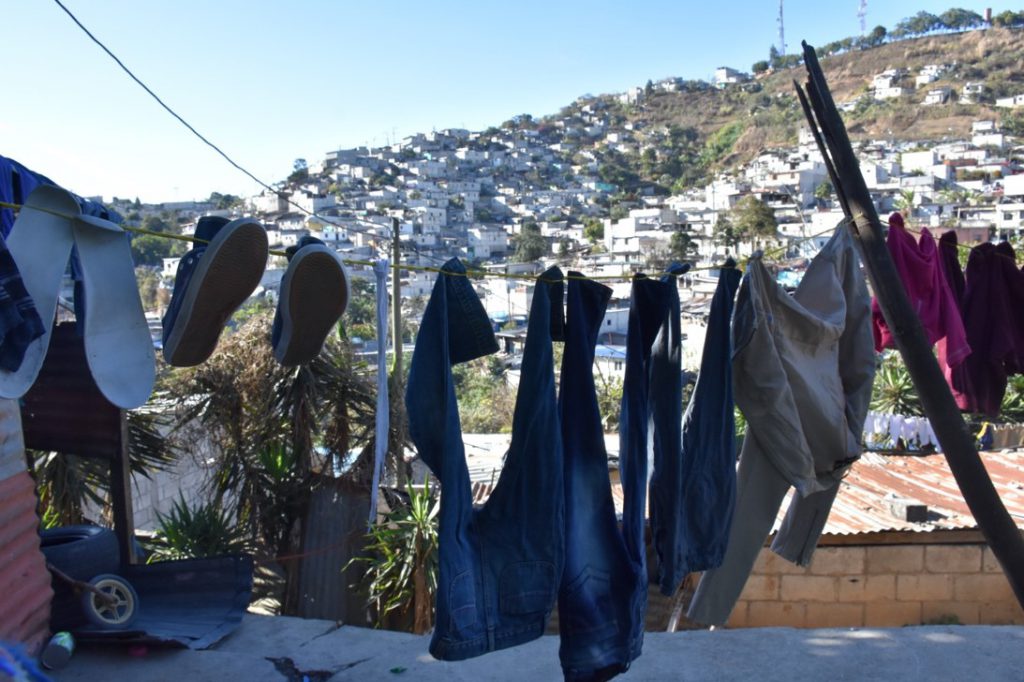 I will briefly focus on some main findings of my research related to the perceptions of violence in both communities.
Urban violence
Guatemala has had a long history of violence and state repression, authoritarian regimes with a long and genocidal civil war, and very violent post-conflict society (Grandin 2000, González-Izás 2017, Kurtenbach 2013). One important dimension of the social insecurities of Guatemalans today is a product of the legacies of the 36-year long armed conflict. The easy availability of firearms, high levels of impunity and corruption are especially reflected in urban spaces. Hence, old and new expressions of violence metamorphose, intersect and overlap, generating new forms and more complex expressions of violence in the cities (Moser and McIlwaine 2004, Winston 2005, Camus et al. 2015). At the same time, as Pérez-Sáinz argues, social exclusion and inequality are the main drivers of interpersonal violence in Central American urban spaces (Pérez-Sáinz 2015).
For the residents in both communities there is an overwhelming perception of urban violence and therefore of insecurity. Their perceptions of insecurity and risk related to violence are experienced and witnessed in their homes, the community, and in other parts of the city. The maras and other minor gangs were perceived as the most noticeable problem in terms of insecurity and fear and considered to be the main protagonists of violence. In both communities, the maras control the nearby surroundings. Their battles, involving regular shootings, for the control of drug markets and the territory, have a huge impact on the daily lives of the residents of these communities, especially during the night. Though, some residents also expressed compassion for the maras, acknowledging they are product of social exclusion and lack of opportunities.
However, the relationships and interactions with the maras are not black and white. The maras can also become allies or protectors of the community. For example, the origin and development of 5 de noviembre was linked to the leader of a local mara. Nicknamed as Colocho, the mara membertook over the terrain backed up by the National Coordination of Marginalized Communities and Areas of Guatemala, CONAPAMG. He was the leader of the community for ten years until he was shot in a dispute over the territory. Despite his arbitrary and coercive practices to build the precarious infrastructure and housing in 5 de noviembre, under his rule the community felt they were more organized and "protected".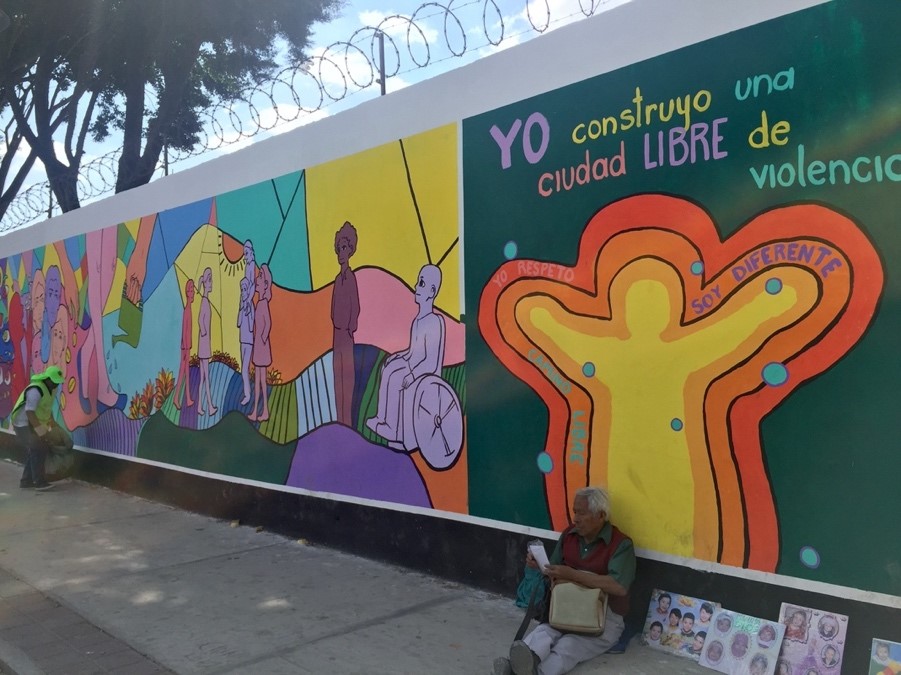 Another strong perception of insecurity derives from the generalized practice and culture of extortion or the fear of extortion, by the various gangs or other criminal urban actors. Extortion is a central part of the parallel criminal economy in Guatemala. Small businesses and other transportation means (some buses, taxis), are the main targets of extorsions. Although, the risk of being a victim of extortion is always present.
The greatest fear and insecurity, for young women, is that they could be sexually assaulted and raped, limiting their freedom and mobility. Fear in space is socially constructed and conditioned by various gendered power relations (Winton, 2004). Poor women in Guatemala are especially vulnerable to sexual violence, having one of the highest femicides rates in the world (Sanford, 2008; Carey & Torres, 2010).
The harmful consequences of the strong perception of insecurity are extreme isolation and seclusion in their houses (with some differences related to age and gender). Within the community, fear and insecurity divides and fractures a community's organization and weakens solidarity and trust among its residents.
In both communities, due to the absence of the State as providers of security, they must survive and deal with the overlapping forms of violence from their personal resources and in the grey zones of informality and formality. These marginal communities are at the centre of a "cross-fire", subject to the manipulation by the state, drug groups and the highly corrupt elite political sector, in a dangerous cycle of exclusion, violence and extreme poverty. The negative impact of the interrelation of multiple types of violence, whether interpersonal (family/partner, community) or collective (social, political economic), and the generalized perception of insecurity and fear has negative consequences for the lives of the residents in both communities.
The perception of urban violence in Guatemala City's precarious settlements illustrates the complex processes and structural dynamics that produce and reproduce spatial injustice in Latin American urban spaces.
About the author and the feature
Florencia Quesada is university lecturer in Latin America Studies at the Department of Cultures, Faculty of Arts, University of Helsinki. This research was part of the project 'Fragile cities in the global South: societal security, environmental vulnerability and representative justice', coordinated by Anja Nygren at the University of Helsinki. The research was funded by the Academy of Finland and FinCEAL Plus Research Visit Grant, UniPid. I am grateful to the residents of both communities and to Perpendicular (Ónice Arango, and Andrea Valladares), for their vital collaboration and support during the field work in Guatemala.
References
Caldeira, T. P. (2017). Peripheral urbanization: Autoconstruction, transversal logics, and politics in cities of the global south. Environment and Planning D: Society and Space, 35(1), 3–20. https://doi.org/10.1177/0263775816658479
Camus, M., Bastos, S. & López García, J. (2015) Dinosaurio reloaded: Violencias actuales en Guatemala. FLACSO & Fundación Constelación.
Carey, D. Jr. & Torres, M. G. (2010). Precursors to Feminicide. Guatemalan Women in a Vortex of Violence. Latin American Research Review, 45(3), 142–164.  https://www.muse.jhu.edu/article/406422
González-Izás, M. (2017). El Fenómeno de la violencia urbana. FLACSO, USAID.
Grandin, G. (2000). The Blood of Guatemala: A History of Race and Nation. Durham and London: Duke University Press.
Jutersönke, O, Muggah, R. & Rodgers, D. (2009). Gangs, Urban Violence, and Security Interventions in Central America. Security Dialogue 40(4–5), 373–97.
Kurtenbach, S. (2013). The 'happy outcomes' may not come at all – Postwar violence in Central America. Civil Wars 15(1),105-122.
Levenson, D. (2013). Adiós Niño: The Gangs of Guatemala City and the Politics of Death. Duke University Press.
Mazariegos, E., Villatoro, J. & Monterroso, R. (2014). Análisis estratégico de potencialidad y economía territorial de los barrancos del municipio de Guatemala. Editorial de la Dirección General de Investigación, Universidad de San Carlos de Guatemala.
Moser, C. & McIlwaine, C. (2004). Encounters with Violence in Latin America: Urban poor perceptions from Colombia and Guatemala. Routledge-
Pérez Sáinz, J.P. (Ed.) (2015). Exclusion social y violencias en territorios urbanos centroamericanos. FLACSO. https://flacso.or.cr/publicaciones/exclusion-social-y-violencias-en-territorios-urbanos-centroamericanos/
Sanford, V. (2008) From Genocide to Feminicide: Impunity and Human Rights in Twenty-First Century Guatemala, Journal of Human Rights, 7:2, 104-122, DOI: 10.1080/14754830802070192
Soja, Edward W. (2010). Seeking Spatial Justice. Minneapolis, MN, USA: University of Minnesota Press.
Winton, A. (2005). Youth, gangs, and violence: Analysing the social and spatial mobility of young people in Guatemala City. Children's Geographies, 3(2), 167-184.
Share
Co-creation!
Do you miss something here? Would you like to contribute? Please let us know: urbanfutures@slu.se