The new urban gardening commons: creating spaces of care and connection
Published 28 juni, 2021
Nathalie Bergame
PhD Candidate at the Royal Institute of Technology (KTH), Sweden
Are urban gardens more than growing vegetables? Nathalie Bergame, PhD candidate at Royal Institute of Technology in Stockholm, Sweden, discusses how urban gardening as part of the practice of urban commoning is transforming public space, with both spatial and social consequences.
Soon, parts of the city of Stockholm will be gushing with life again. It is May 2021 and the beginning of summer. Everyday, I watch out of my window and look at the bee hives cared for by my neighbour, my eyes searching for bees peeking out of their homes and setting their path towards finding food in the urban landscape. It makes me think about the increasing amount of people who are interested in practicing urban gardening here, an interest that has been exploding the couple of last years. Whether as response to, or as part of the current zeitgeist of greening the city, for the first time in the recent history, politicians of the City of Stockholm decided to open up their public spaces for people to take over for gardening and food-cultivating activities. A strategy that can be understood as green urban development, I also understand this as an opening for the development of spaces of care and community, food and learning, emancipation and structural change.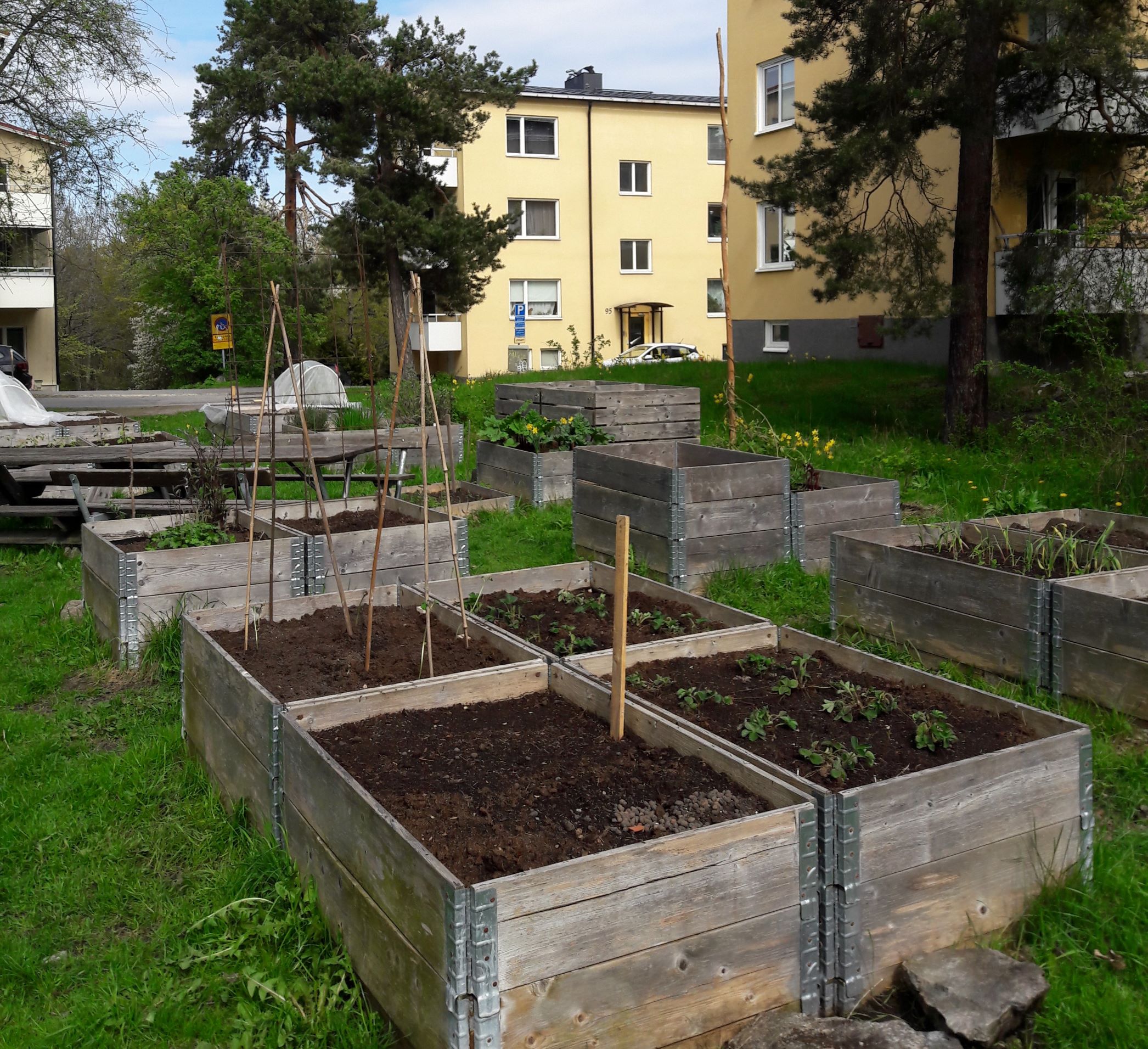 Although I have been studying and visiting the commoned gardens for the last 2 years, I have not become a member myself. Gardeners tell me that they have seen what it means to be many, to share the labour and the harvest, to work in a collective. They have what I argue based on the dialogues I have had, become commoner subjectivities. In an urban world these people strive to support each other by creating these common growing spaces, benefitting from being together. They have, what I can see, changed the urban landscape, not only physically but also the socially – even if only on a small scale.
Women as public actors in the commons
And yet, the majority of the gardeners are women. Women like me, white, middle class – women who feel comfortable being visible in the urban realm, providing reproductive labour for free to create community and solidarity. Solidarity to others but also to nature. Feminist theorists have long been highlighting divides between the dichotomies of the public and the private, the male and the female, the economic and the hedonic. In that context, one can ask the question what it means that more and more of the public realm is planned as spaces of care – care between people working together to cultivate food, care to the plants which provide food and joy. Women are a group within society whose labour is relatively underappreciated compared to those of men. This makes me wonder what happens when the care-based labour by women penetrates the public realm, a realm which many women experience as unsafe, but which now is opened up as spaces of reproduction and social community? Will the spatial manifestations of community and nature transform public space through the labour of female gardeners?
The perils of spatial alienation during covid
In times of a global pandemic I and many others wonder about the function and place of public space in our society. As spatial alienation has been the all-encompassing theme of the covid pandemic, physical and social distancing have become the practices of care for one self and others. The physicality of the gardens in the public was nothing I paid much attention to until the pandemic hit and demanded social distancing between people. For some of the gardens these new demands for distancing meant the end of their operations during covid: in some cases, the raised beds in wooden boxes had subsequent to the pandemic been placed too close to each other, probably in order to save space and use the space efficiently. Some city district administrations feared that these gardens could become covid hotspots and in their actions of care terminated tenure agreements. Other gardens remained unaffected by restrictions applying to the public sphere and continued cultivating their plants. Many garden initiators I talked to during the first summer with covid in 2020 said that they were so happy that they at least had their gardens, where they could meet others, get away from their home offices and relax during gardening and enjoy the summer.
In a city where housing prices are high people often live in small apartments which for many become challenging environments where not only reproductive labour takes place but also economic activities (home office) are conducted. Under these circumstances public spaces can become refuges from perils of working and living at home, relieving the pressure built up during more than a year of pandemic life.
The covid pandemic has alienated us all to some extent from each other, at least physically. After such a long time of social distancing and isolation I myself and others I talk to are longing for forms of sociality, physical instead of digital meetings, meaningful practices that make us feel alive and connected. My appreciation for the possibility to common urban spaces as an act of social solidarity and community has grown during the pandemic. Other's work, their gardening, has affected me, left an imprint on me, allowing me to think that I could too become a commoner, one that claims her right to the city, the right to remake the city and with that change myself and maybe unintentionally also others. Maybe in the end, I will become a member after all. And like the bees of my neighbour contribute to cultivating food in my surrounding environment and harvest it together with the other urban residents, of whom some of them maybe become my friends. This makes me feel hope, hope for a city in which I could actively be a part of.
Being hopeful whilst acknowledging the contradictions
When writing all this, I wonder what other urban public practices there are like gardening in common public spaces, that are both spatial and social with the potential to be structurally transformative. Practices that are open for everyone to take up. In the public. And then I think about all those people that do not take part in public urban practices – for different reasons. I am thinking about Black Lives Matter and how the public realm is for many People of Colour a place of oppression and abolishment. #GardeningInThePublicWhileBlack? I am thinking about the homeless for who abandoned public spaces can be a refuge and a home, of which many are being gentrified by greening strategies. In my readings of other researchers work I see all of these dire things happening. I see the reproduction of whiteness and gentrification. The use of urban gardening initiatives to beautify neighbourhoods and drive up housing prices. Knowing all this makes me humble, allows me to acknowledge that there are contradictions, that changes affect people differently, that one needs to be vigilant and full of hope at the same time. That we need critical perspectives, love and solidarity to overcome challenges. Challenges such as climate change and the need for more sustainable food systems, systems like racism and patriarchism, capitalism and neoliberalism. Commoned gardens respond to all of those challenges in one way or another, both by transforming structures and but also by being part of reproducing it, like everything that takes place within a context.
---
Nathalie Bergame
June 2021
About the author
Nathalie Bergame is a PhD Candidate at the Department of Sustainable development, environmental science and engineering, Royal Institute of Technology in Stockholm, Sweden. Her research focuses on society-nature relations more generally. She is particularly interested in structural and agential transformations and the role urban commons play in mediating transformational relationships.
Email: nathalie.bergame@abe.kth.se
Twitter: @BergameNathalie
Urban Voices – Reading the City
Urban Voices is an initiative by SLU Urban Futures. This multidisciplinary endeavour brings together voices, from near and far, working in and outside of academia, to reflect upon the urban realm. The project engages writers across disciplines to capture synergies between knowledge areas and to better understand the interaction of the drivers and effects of urbanization. The theme for summer 2021 is: 'Creating sustainable urban communities – critical perspectives on sustainable urban development'. 
Subscribe to the Urban Updates newsletter to receive the next Urban Voices directly in your inbox!
Share
Co-creation!
Do you miss something here? Would you like to contribute? Please let us know: urbanfutures@slu.se